Servings 6
Prep     25 minutes
Cook  30 minutes
Total Time:   55 minutes







H

ealthier version of a naturally gluten free holiday classic.  This yummy sweet potato pecan casserole still has all the sweet goodness with a fraction of the guilt!  The body of the casserole has little sugar, aside from the natural sugars in the sweet potatoes and the honey/agave.  With just the right amount of brown sugar, making a wonderful rich crust that accentuates the spices and flavor of the sweet potatoes."
INGREDIENTS
Body of the Casserole
Pecan Topping
Peel sweet potatoes and cut into 2 inch cubes for faster cooking.
Boil a large pot of water big enough to submerge cubed sweet potatoes.
Add peeled, cubed sweet potatoes in the boiling water for 10-15 minutes.  Cook until sweet potatoes are tender all the way through.
Drain well.  Lay cubes on a paper towel for 5 minutes to soak up any additional water.
Preheat oven to 350 degrees.  Use coconut oil to lightly grease the bottom of a 13x9x2 baking dish.
In a large mixing bowl combine sweet potatoes, egg, agave (or honey if you prefer), ginger, nutmeg, cinnamon, and sea salt.
With an electric mixer or with a food processor whip together until smooth.

Spread sweet potato mixture evenly in prepared baking dish.

In a small bowl mix topping ingredients: chopped brown sugar, cinnamon, pecans, and cold butter.
Crumble topping mixture evenly on top of sweet potato mixture.
Cook uncovered for 30-40 minutes.  remove from oven when topping begins to brown around the edges.
Let cool for 5-10 minutes before serving.  Sit back and watch as the sweet potato pecan casserole is devoured!

Chef Notes:  

This version of the Thanksgiving classic has quite a bit less sugar than our family's original recipe, but you won't miss it.  The rich pecan, butter topping and delicate mix of spices bring a rich flavor to this dish.  If you would like to make this dairy free, simply make the topping with only brown sugar, pecans and cinnamon.  It will not be quite as rich but it is still yummy.
Return to Sprouted Roots Side Dishes page for more great gluten free recipes.
_____________________________________________________________________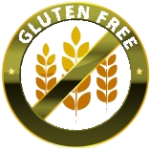 Gluten Free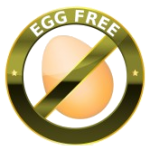 Egg Free     

 Lactose Free   

 Vegetarian          *Dairy Free