Makes 40 cookies 
Prep   10  mins
Cook   20 mins
Total Time:   30 mins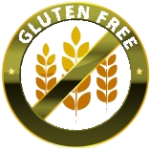 Gluten Free       




A

truly yummy gluten free peanut butter cookie kisses that will bring you back to your school days.  No one would even guess these are gluten free.  They are guaranteed to disappear at a potluck or add one to your child's lunch for a sweet treat that sneaks in a little protein."
½ cup butter room temperature
3/4 cup sugar
2 eggs

3/4

cup peanut butter
1 ¾ cup brown rice flour blend * see recipe below
½ teaspoon salt
chocolate kisses
DIRECTIONS
1.  Preheat oven 350 degrees.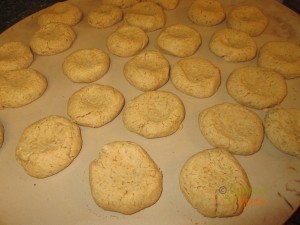 2.  With a mixer, cream together butter and sugar in a mixing bowl until light and fluffy.  Combine eggs with mixture and mix well.  Mix in peanut butter.
3.  In another mixing bowl mix together flour and salt.  Add flour mixture to batter and combine with a spoon.
4.  Form into 1-inch balls, put on greased cookie sheet.  Press finger into center of each ball to make a small well.  You may need to press your thumb in flour several times so dough does not stick to it while pressing the wells.
5.  Bake for 20 minutes.  Remove from oven allow to cool slightly.  While just barely warm fill centers with kisses.
* Brown Rice Flour Mix
2 ¾ cups brown rice flour
1 ¼ cups potato starch
¾ cup tapioca flour
Mix well. Hint: be sure to mix well before measuring for each batch.


Chef Notes:
*Originally these were from my grandma's Finger Klatchen cookie recipe.  I tweaked them a bit and made them gluten free. No one will even guess these are gluten free!

_____________________________________________________________________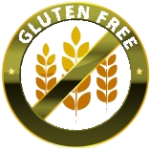 Gluten Free    

 Vegetarian