Makes Approx
40 Doughnut Holes

Prep   10  mins
Cook   2  mins per doughnut

Total Time:   12 mins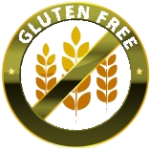 Gluten Free  

 Lactose Free




O

h yes doughnuts!  Gluten free lovers, there is no need to miss out on one of your favorite indulgences.  These scrumptious gluten free doughnut holes are crispy on the outside and soft on the inside."
3/4 cup+ 2 Tbsp. rice milk (does not work well with coconut milk)
2 tablespoons healthy oil (melted butter, olive, or coconut)
2 eggs
2 teaspoons baking powder
¼ teaspoons sea salt
coconut or olive oil for frying
DIRECTIONS
1.  Mix together rice milk, oil, and eggs in a small bowl.
2.  Mix flour blend, baking powder, sea salt, and cinnamon in a separate bowl.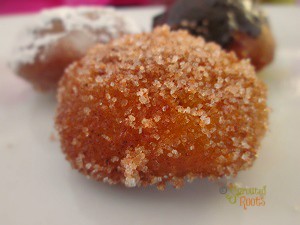 3.  Add milk mixture to flour mixture and stir until thoroughly mixed.
4.  Heat 1″ oil in a pot on medium high heat.  Once hot, pour 1 tablespoon of batter into the oil.  (pour the batter close to the oil and in one spot).  Cook until bottom side is brown, about 1 minute.  Turn over and cook until other side is brown, about 1 more minute.  Take out of oil with a slotted spoon and set on paper towels to drain and cool.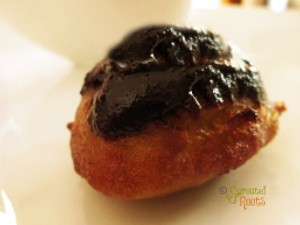 5.  Frost with cinnamon sugar, powdered sugar, or ganache or set these toppings out in a dish for dipping the doughnut holes.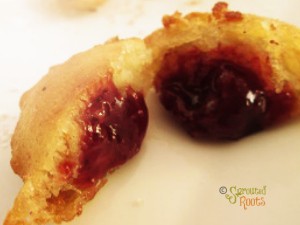 Chef Notes:
*These doughnuts would also be great filled with your favorite jelly or custard.
Return from Gluten Free Doughnut Holes to Gluten Free Desserts

_____________________________________________________________________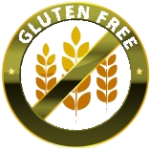 Gluten Free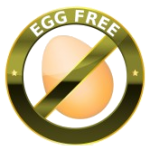 Egg Free     

 Lactose Free   

 Vegetarian          *Dairy Free