CAN'T WAIT !
MY EASTER IS GOING
TO BE A BREEZE!

I love spring time!  Nature comes alive, we have more daylight during the day, and the sweet smell of flowers blooming puts me in the "cooking a feast mood" again.  A perfect time for Easter to swing around!
In our home, Easter is an all day celebration.  From the moment the kids awake to find evidence of the Easter Bunny up until the time we are wishing our family well after an amazing celebratory feast.  Our Easter dinner table seems to be somewhat of a celebration of Spring; there is an abundance of fresh vegetables, bright colors and fruit.  There always seems to be at least one bean dish and a large fresh salad.  Of course, there would be much disappointment without homemade dinner rolls!
Not sure what you are putting together for this year's feast?  Below are our favorite springtime dishes guaranteed to make your Easter feast a success.  They will add color to your spread and even better, most of them can be prepped or purchased ahead of time with little work needed that afternoon.
Shhh, don't tell anyone, we took some short cuts and they are easy to make!  One short cut we took was we purchased our already prepared gluten free ham from The HoneyBaked Ham Company.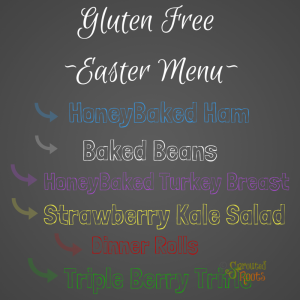 Even though I love to cook, I am also a huge fan of "easy, care-free cooking" especially when I am expecting a full house.  Whatever will simplify the prep work and give me more time to enjoy the events of the day is right up my ally!  Now I am not one to complain…. but turning on the oven when the weather is heating up is not something I look forward to on Easter day.  Especially with a house full of guests, the oven and body heat can really get it cooking in there!  An idea came to me the other day, "who says the ham has to be warmed"?  Believe it or not, ham as a main dish is delicious served cold!  Pair it with a few warmed side dishes, and you have yourself a wonderful Easter feast with a lot less fuss.  Time spent in the kitchen will be a whole lot less, leaving you time to have a relaxing day enjoying the egg hunting and time with family and friends.
If you haven't tried a HoneyBaked Ham from The HoneyBaked Ham Company (our personal favorite), you must treat yourself!  Their hams are delicious!  Convenient and simple to serve, HoneyBaked Hams are the perfect solution for a fantastic Easter meal.  Don't take my word for it!  The HoneyBaked Company's (since 1957) Bone-In Ham has been known for the most flavorful, moist, and tender ham.  Our favorite is the finish – a signature sweet, crunchy glaze – yum!  Each HoneyBaked Ham is slow-smoked for more than twenty hours for unparalleled tenderness.  Finally, each ham is hand-glazed in each store for an incredible taste that's second to none.  And, drum roll please!…it is Gluten Free!
So looks like this year I am going mega easy!  I am committed to being able to enjoy this Easter, and not being stuck in the kitchen the entire day.  Not only am I serving an already prepared HoneyBaked Ham from The HoneyBaked Ham Company (no cooking needed) but I am also going to buy some of my sides there as well.  Their baked beans have chunks of bacon and have a wonderful smokey barbequed flavor.  Super easy, just heat and serve!  I am also serving HoneyBaked tangy/sweet cranberry sauce, it goes so well with my homemade gluten free dinner rolls!  And to make sure everyone is happy, I wll be picking up HoneyBaked delicious and full of flavor, fully-cooked, sliced and glazed Oven Roasted Turkey Breast, for those guests who prefer turkey over ham.  HoneyBaked Ham Turkey Breast is trimmed by hand, perfecting the wholesome flavor and goodness of tender 100% breast meat, carefully seasoned, then fire-glazed to perfection with their one-of-a-kind sweet, crunchy glaze.            And ……gluten free!  Everyone will be happy!
Our savory

Strawberry Kale Salad

and scrumptious

Gluten Free Triple Berry Trifle

recipes will will make this Easter menu your best one yet!  Your family will RAVE about it for years!
| | |
| --- | --- |
| Savory | Scrumptious |
Still looking for more ideas?  Check out our collection of gluten free Main Dishes as well as our gluten free desserts!

Happy Easter!
>>>>> To make this Easter a little sweeter <<<<<
HoneyBaked is offering our readers $5 off any purchase of $50+!
Check out the link below for the details and get ready to enjoy a less stressful Easter Feast!
Click here for Exclusive Limited Time Offer

$5 off any purchase of $50 or more

Offer valid 3.14.15 – 4.4.15.
Must present coupon at time of purchase to receive offer.  May not be combined with any other offer. One coupon per person at participating retail store locations. While supplies last. 
_____________________________________________________________________

*This is a sponsored post by The HoneyBaked Ham Company, but honestly we love them!
*HoneyBaked side and dessert selections may vary by location.  Let us know your favorite side!
Why HoneyBaked Ham? Serving ham for Easter is a special tradition. Serve the best tasting, quality ham your family will enjoy-Honeybaked Ham.HoneyBaked offers premium products that are convenient and simple-to-serve. HoneyBaked offers a variety of easy and delicious Easter meal solutions.