Here at Sprouted Roots we are sprouting new family traditions and tweaking a few old ones in hopes of bringing higher levels of physical and emotional wellness to our families.
We come from different backgrounds, but we share the same goal - a happy, healthy family. We decided why not share our discoveries, our experiments and adventures with others on the same path. In essence, we are here to help spread the "dirt" on living healthy, vibrant and happy lives.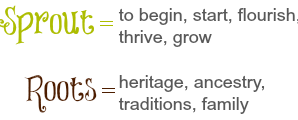 We want to help families get back into the kitchen. A place to build traditions, focus on wellness and spend time making memories together. Home cooked gluten free meals have the ability to transform your family. It is easier than you think and most importantly taste good too! Gluten free does not have to be the expensive, card-board tasting junk packaged at the grocery store.
If you dig around within our website, you will turn up interesting articles such as; Tips on our exercise, healthy places to eat, fun places to go, health and beauty tips, and our favorite products.
We turned the soil. It Rained. The sun is out now. Let's see what sprouts!