Fourth of July is speeding right towards us and it feels like the summer is flying by.  As with most holidays, I find myself shocked they are already upon us.  Then, after grasping a firm hold on the reality that life in general is flying by, I hit Pinterest to find some creative ways for the kids and I to add a splash of fun to whatever holiday it may be.  I was delighted when  I landed on a Watermelon Cake that I first saw in Good Housekeeping and then several versions on Pinterest.  No, not a cake made to look like watermelon, but a "cake" made out of watermelon.
I love the idea of this.  It would be naturally gluten free, fun, and seemed fitting for the Fourth of July festivities.  I also like that it seemed relatively easy.  Who doesn't love easy??  There were a few things about the "recipes" I saw that I wanted to do slightly different, mainly the topping, to better suit our family's way of eating but I do like to follow a recipe as close as possible the first time.  And so the experimenting began….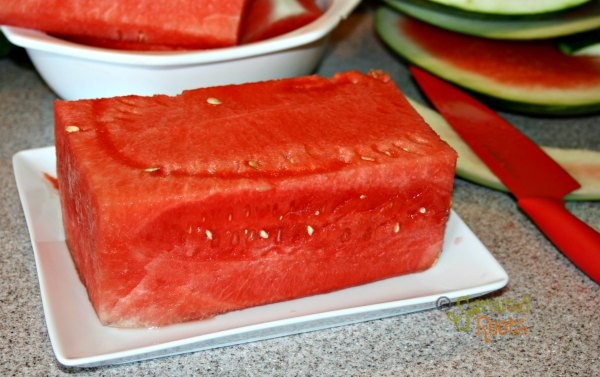 So the first go around was to be a rectangle block of watermelon covered with cool whip and berries to look like the American flag.  It looked cute and simple enough but I should know better by now!  I followed the instructions I read in Good Housekeeping: froze the Cool Whip, started about an hour before I wanted to leave to take it somewhere, and chilled the watermelon in the refrigerator.
You may already be imagining where this is going.  Not sure why I hadn't predicted it myself!   I washed and dried the berries I was going to use, cut my watermelon to the shape and size I wanted and started the process of lathering the watermelon with the Cool Whip. (This is where it got really messy!)  The Cool Whip began to soften, which was nice because it was more spreadable but at the same time it started to absorb water from the watermelon, making it a bit runny.  We did manage however to get the "cake" covered and then carefully, VERY carefully, place berries to look like a flag.   But as you might imagine, the berries were sliding down the sides here and there, the Cool Whip was looking increasingly runny and it just didn't look great.  At least not like the pictures I had seen!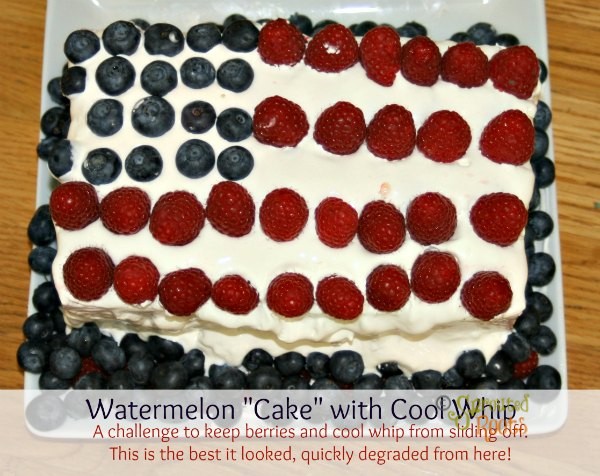 Here you have it, our first watermelon "cake" done.  Festive!  Fun!  Just not exactly what you would proudly take to a gathering.  AND this was before we even walked it out the door into the 113 degree afternoon!  Immediately, I had decided although cute, this was probably NOT the dessert I would be bringing to anyone's home on the 4th.
The logistics and odds of it melting into a huge mess weren't worth it.  We didn't let it go to waste though!  We packed it up and took it to a friend's house who doesn't seem to mind the experimenting 😉 and the kids happily devoured it.  Definitely a hit in that regards!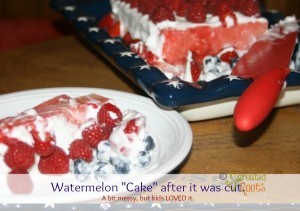 I guess it was the kids' enjoyment of the "cake" that led me to attempt this a different way, hoping for a better result.   We decided perhaps whipped cream made from coconut cream may handle the water from the watermelon better.  (Besides, I prefer the coconut whipped cream for my family who doesn't handle dairy so well.)  I also did not attempt to freeze the whipped cream this time, we chilled it for about an hour instead.
We followed the same procedure;  cut watermelon, washed and dried berries and started to apply Coconut Whipped Cream.  It did go on and STAY on much better than the previous attempt.  Thank goodness!  It still was difficult to get the whipped cream to stay still.  We added the berries.  It was fun and festive and bit more finished looking but I did not have the confidence with it to commit to taking it to anyone's house.  (The kids happily devoured the second watermelon cake of the week!)
I was feeling a little defeated, but sometimes you just realize certain things are not worth the effort.  I will be trying different ways to make "cake" from fruit, but a watermelon cake covered in whipped cream is permanently OFF my list.  I am not a fan of having to "worry" about things falling apart.  Heck, I am not a big fan of worrying about anything! 😉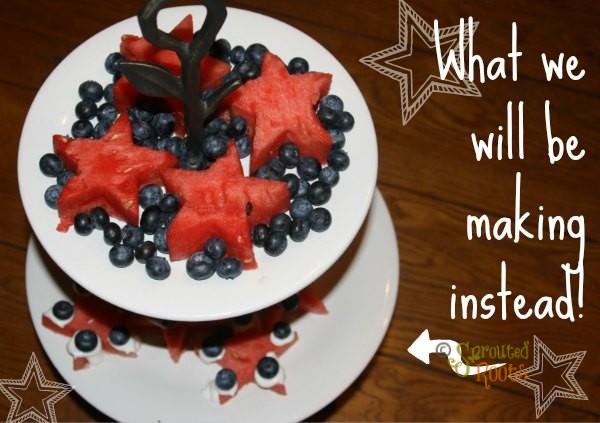 So for this Fourth of July, I will be bringing out the star shaped cookie cutter and making watermelon stars surrounded by blueberries.  SIMPLE.  REFRESHING.  EASY.  I know the kids will devour it!  You can even serve up a bowl of whipped cream to dip them in.  We tested out the idea with the left over "cake" scrapes.  It turned out great.  (See to the right.)  And amazingly, the kids are STILL not sick of watermelon!
Are you making something special for the Fourth of July?  Have you been successful with watermelon "cake"?  If so, please share your secret!!
Happy Fourth all, and Happy Eating!
Click here for more "full proof" gluten free desserts from Sprouted Roots

2 Responses