Serving  size 1 large pizza

Prep   10 mins
Cook   0  mins
Total Time:   10 mins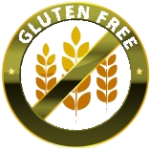 Gluten Free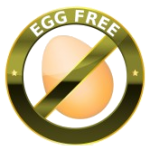 Egg Free



I

mpress your guests with this fabulously beautiful and delicious watermelon pizza.  A snap to make, fun to eat, and a healthy snack.  This is another great gluten free recipe to keep your family humming along."
1 large watermelon

strawberries
kiwi
grapes
blueberries
shredded coconut
DIRECTIONS
1.  Cut the center out of the watermelon about 1″ th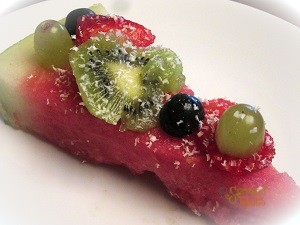 ick.  Lay flat on a large serving plate.  Carefully scrape out seeds with a fork.
2.  Slice the strawberries and kiwi and place on the watermelon slice.
3.  Add grapes and blueberries.  Lastly sprinkle shredded coconut on top.
4.  Cut slices with a pizza cutter or a large knife and serve!


Chef Notes:
*This recipe is Paleo-friendly.
*Watermelon is a refreshing sweet treat enjoyed by many on those hot sunny days.  An ice cold slice of watermelon can bring a smile to a child's face, grinning as the juice runs down their chins.  But little do they know that watermelon is not only a tasty dessert but it is good for their health too!
Watermelon is packed full of vitamins and minerals, a great way to get your Vitamin A and C.  Studies have shown that eating watermelon improves your heart health by providing better circulation. Watermelon is also a great antioxidant. Did you also know that drinking watermelon juice reduces soreness after a workout?  Wow!  That is awesome!  Click here read more about the Five Reasons to Eat Water Melon.
Return from Watermelon Pizza to our Recipe Box for more of Sprouted Root's tasty Appetizers

Click here for fun and interesting articles at Our Table (Blog)

To view Products We Love click here

Join the Sprouted Roots Family; Subscribe to our Newsletter to get more Sprouted Roots Goodness delivered to your inbox!  Click Here to Subscribe

_____________________________________________________________________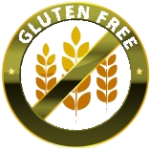 Gluten Free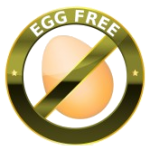 Egg Free     

 Lactose Free   

 Vegetarian          *Dairy Free