Serving  size  1 sushi roll

Prep   10 mins
Cook   0  mins
Total Time:  10 mins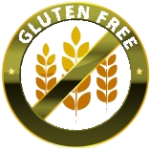 Gluten Free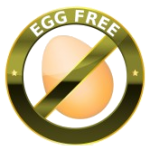 Egg Free



Y

es you can enjoy sushi again on a Paleo diet! Fresh veggies wrapped in seaweed and served with your favorite sauce. This Paleo sushi is delicious and simple to make."
DIRECTIONS
1.  Prepare nori sushi wraps as directed by the package.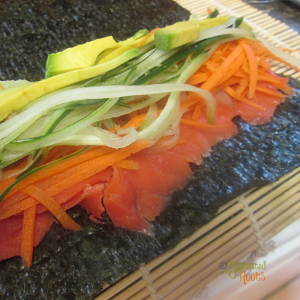 2.  Lay a single nori sushi wrap on a sushi rolling mat.
3.  Lay sushi fish across one end of the nori.
4.  Lay lettuce on top of the fish.
5.  Julienne cucumber and carrot and lay on top of the lettuce. Click here for our favorite julienne peeler, makes prepping a snap!
6.  Add sliced avocado and roll sushi.
7.  Serve with your favorite dipping sauce.


Chef Notes:
*This recipe is Paleo-friendly.
*What is Paleo you ask? Paleo (aka. caveman diet) is based on foods our ancestors ate like meat, vegetables, fruit, nuts, and berries. On the Paleo diet you steer clear of processed foods, dairy, sugar, legumes, and potatoes.  Click here for more information and the Ultimate Paleo Guide.
*I love the Titan Julienne peeler and vegetable peeler!  It has made prepping in my kitchen a snap.
STAINLESS STEEL & DISHWASHER SAFE: UberChef uses a high quality stainless steel that presents as a beautiful brushed metal. Not only do your culinary skills get a boost, but so does your kitchen decor.

VERSATILE & MULTIFUNCTIONAL: Peeling vegetables, potatoes, carrots, sweet potatoes, and other veggies just got a WHOLE lot easier with our SUPER sharp vegetable peeling blade. This is a MUST-HAVE Chef-Inspired kitchen tool! Plus, with the sharpest blades on the market, and a pro chef inspired design, you'll be making beautiful meals in a fraction of the time.
Save time in the kitchen and get yours today! Click here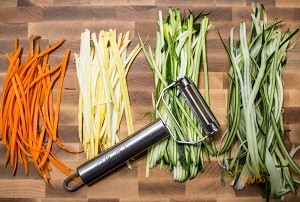 Return from Paleo Sushi to our Recipe Box for more of Sprouted Root's Main Dishes

Click here for fun and interesting articles at Our Table (Blog)

To view Products We Love click here

Join the Sprouted Roots Family; Subscribe to our Newsletter to get more Sprouted Roots Goodness delivered to your inbox!  Click Here to Subscribe

_____________________________________________________________________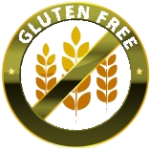 Gluten Free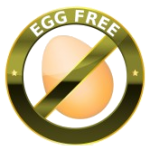 Egg Free     

 Lactose Free   

 Vegetarian          *Dairy Free