Season Your Dishes
Effortlessly!



This sweet little grinder has hopped into my life and has made seasoning easy.
Say goodbye to hand grinding your pepper and say hello to a wonderful effortless accompaniment for your table. This pepper grinder is very durable and a cinch to use.  It has 3 preset grinder levels and a push button battery powered motor allowing you to dispense pepper evenly.
I love this grinder! It has saved my wrists from grinding pepper for my guests.  I also use it while cooking my dishes.  I am going to buy one for my course sea salt too!
I anticipate we will be seeing these pepper and salt grinders in every restaurant in the near future!
*Click here to get your Ozeri Savore Soft Tough Electric Pepper Mill and Grinder
*Go to our Strawberry Kale Salad and see how beautiful and evenly the Ozeri Electric Pepper Mill and Grinder seasoned the salad!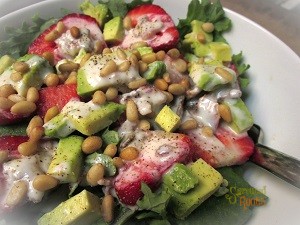 Strawberry Kale Salad
*Ozeri is a specialty manufacturer of digital lifestyle products for the modern home.  Ozeri products are found in vacation residences that span the globe, from Majestic European Estates, luxurious dessert spa resorts, to private tropical resorts. The finest quality and award winning designs of kitchen, bath, entertainment and personal amenities. Click here to learn more about Ozeri!

_____________________________________________________________________

Health Disclaimer:  We are not health professionals and we do not claim that we are. Our opinions and recommendations are only that and are to be used at your own discretion.  It is recommended that you consult a health professional before acting on something that we have published or recommended. 
Any statements or claims about the possible health benefits conferred by any foods, exercises or supplements have not been evaluated by the Food & Drug Administration and are therefore not intended to diagnose, treat, remedy or prevent any disease.