w/Tri-Axis Technology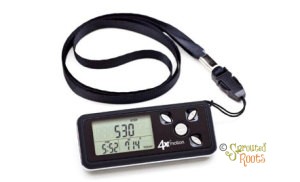 Want to know how far you are walking in a day? Or how many calories you burn?  Get the Ozeri 4x Motion Digital Pedometer with Tri Axis Technology.  Takes the guesswork out of your daily routine!
This easy to use 4x3motion Digital Pedometer utilizes the latest generation in Tri-Axis technology to provide superior accuracy in any position, whether up, down, flat, on its side, or at any angle. It uses an  accurate Digital 3D Acceleration Sensor.  Compact, sleek and ultra slim, the 4x3motion Digital Pedometer fits is any pocket and is the ultimate personal trainer. Used by professional 100 mile ultra runners such as Evan Kimber, the 4x3motion Digital Pedometer records your steps, distance, average speed, calories burned, and time spent exercising,  The 4x3motion Digital Pedometer filters out vibrations and only begins counting after it detects a sequence of continuous steps for greater accuracy.
I use it every day on to track my run and keep it in my pocket to track the rest of my movement during the day.
*Click here to get your Ozeri 4×3 Motion Digital Pocket 3D Pedometer with Tri-Axis Technology

*Go to our blog and find out why Interval Running is an effective time saving workout!
*Ozeri is a specialty manufacturer of digital lifestyle products for the modern home.  Ozeri products are found in vacation residences that span the globe, from Majestic European Estates, luxurious dessert spa resorts, to private tropical resorts. The finest quality and award winning designs of kitchen, bath, entertainment and personal amenities. Click here to learn more about Ozeri!

_____________________________________________________________________

Health Disclaimer:  We are not health professionals and we do not claim that we are. Our opinions and recommendations are only that and are to be used at your own discretion.  It is recommended that you consult a health professional before acting on something that we have published or recommended. 
Any statements or claims about the possible health benefits conferred by any foods, exercises or supplements have not been evaluated by the Food & Drug Administration and are therefore not intended to diagnose, treat, remedy or prevent any disease.