What great luck!!  We were delighted to have the opportunity to participate in an Influencer Activation on behalf of Mom Central Consulting for Monk Fruit In The Raw!  A great perk of blogging is the chance to justify taking the time and resources to test new products that interest us.  In this case, the deal was even sweeter (pun totally intended!).  We received product samples to facilitate our post, as well as, a promotional item as a thank you participation. That said, please note, Sprouted Roots would never endorse a product we didn't like.  Out of respect for YOU, our readers, we always, always, always, keep it real!!   So on that note, read below about this seriously great new sweetener…..
Monk Fruit In The Raw Sweetener
 Great for Baking!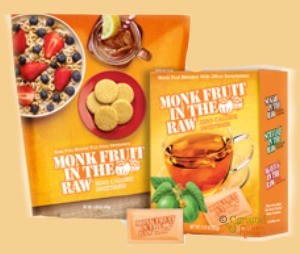 Never heard of Monk Fruit?  Until recently we hadn't either, but I think soon enough everyone will hear of it.  Monk Fruit In The Raw is a wholesome, sugar free, zero calorie sweetener, made with real fruit from Asia.  The extract obtained from the Monk Fruit is 300 times sweeter than cane sugar.  Kind of crazy, huh?!  What made it particularly interesting to us, it is heat stable which makes it a candidate for replacing sugar in your day to day cooking and baking.
What we like about Monk Fruit In the Raw is that it is easy to use!  Simply substitute one for one!  That is one cup Monk Fruit In The Raw for one cup sugar, in any recipe.  Monk Fruit In The Raw has a simple, sweet taste.  Simply put… reduce the amount of sugar your family eats without reducing the taste!
I made these delicious In The Raw Peanut Butter Cookies and the kids went crazy over them!!  As my 3 boys gobbled them up they were not aware that the cookies had half the amount of sugar in them.  Secretly I was doing the mom happy dance!
Monk Fruit In The Raw has a very simple ingredients list – thankfully!  No table sugar, molasses or sugar alcohols added. This sweetener does not contain gluten so it is safe for those with gluten sensitivities and Celiac Disease.  You may also like to know it is Vegan and certified Kosher.
Monk Fruit In The Raw is available in a Bakers Bag or packets for sweetening your beverages and dishes on the go!  I am thinking of trying it in some sun tea next.
We are looking forward to experimenting more with this sweetener!  Pies, cakes, coffee drinks…..   I am curious how it will do in ice cream? Hmmm…..I think there is a new recipe brewing there.
Did you know?
September is Childhood Obesity Month

In observance, we at Sprouted Roots are putting extra effort into creating nutritious treats and dishes that appeal to the little ones.  Incorporating Monk Fruit In The Raw into our recipes will be  a great way to reduce sugar without reducing taste.  Keep your eyes open for more great recipes.
For company information, more great recipes and culinary tips for Monk Fruit In The Raw go to http://www.intheraw.com/
Do you already use Monk Fruit In the Raw???  We would love to hear about your experiences with it, especially your favorite uses!!
_____________________________________________________________________

Health Disclaimer:  We are not health professionals and we do not claim that we are. Our opinions and recommendations are only that and are to be used at your own discretion.  It is recommended that you consult a health professional before acting on something that we have published or recommended. 
Any statements or claims about the possible health benefits conferred by any foods, exercises or supplements have not been evaluated by the Food & Drug Administration and are therefore not intended to diagnose, treat, remedy or prevent any disease.

No Responses