Serving size 4
Prep    10  mins
Cook     0  mins
Total Time:   10 mins
A

ll the goodness of a Mexican Fiesta without all the cooking.  Simply throw all the ingredients in the slow cooker in the morning.  Turn it on and come home to a wonderfully smelling home with dinner ready to go!  This gluten free crock pot recipe is ideal for those crazy days with after school activities packed in.  Hearty and filling, it is sure to satisfy your hungry tribe after a long day with little work in the kitchen.
1 tablespoon olive oil

1 pound turkey burger

1 bag gluten free, tortilla chips 

2 cups chili beans (* see black bean chili recipe)


1 can mild Rotel tomatoes and chilies (or use 1 

cup salsa).

1 can cream of organic natural mushroom soup

1 can cream of organic natural cream of chicken soup

3 cups shredded cheddar cheese

2 teaspoons chili powder

1/2 cup onion – chopped
Directions
1.  Heat a skillet over medium heat, add olive oil and then brown turkey burger.  Add chili beans.
2.  Coat bottom of crock pot with olive oil.  Add crushed chips to cover bottom.
3.  Combine soups, Rotel, chili powder, and onion in a separate bowl and blend well with a whisk.
4.  Layer half of the beef mixture over the chips, then half of the soup mixture over the beef, ending with half the cheese over the beef. Repeat these layers onc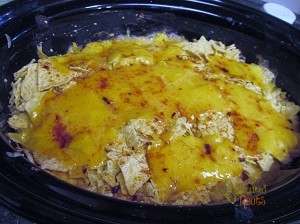 e more beginning with chips and ending with cheese. 
5.  Cook on high for three hours.

Chef Notes:
_________________________________________________________________

No Responses