Serving  size  5

Prep   10 mins
Cook   20  mins
Total Time:   30 mins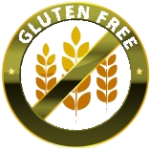 Gluten Free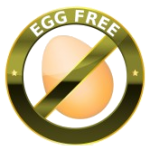 Egg Free



T

hese curly french fries are easy to make and taste great!  Of course they are made with a gluten free batter to make them nice and crispy and are a snap to make with our fabulous new kitchen tool."
6 red potatoes

1 cup brown rice flour
1 tsp. sea salt
1 tsp. garlic powder
1 Tbsp. paprika
1/2 tsp. cayenne pepper powder
1 cup + 2 Tbsp. water
olive oil
DIRECTIONS
1.  Scrub potato to clean the skin

2.  Spiralize the potatoes with the Paderno World Cuisine Spiral Vegetable Slicer
3.  Place the spiraled potatoes into a bowl.  Cover the potatoes with hot tap water and allow sit for 20 minutes.  Take out potatoes and drain on paper towels.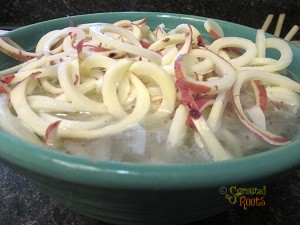 4.  Combine flour, salt, garlic powder, paprika, cayenne, and water in a gallon ziploc bag and mix.  The batter should be on the runny side.
5.  Add a handful of potatoes to the batter, seal the ziploc and shake until the potatoes are coated thoroughly.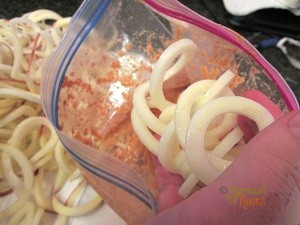 6.  Heat a skillet on medium high heat.  Add 1″ oil and heat until hot.
7.  Add batter coated potatoes to the hot skillet and fry for 2 minutes, turn over and cook for 2 more minutes. (note, if you have a deep fryer, cook as the manufacturer instructed.)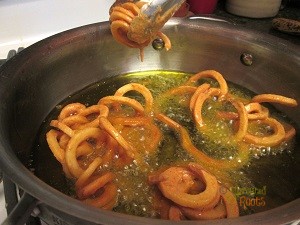 8.  Take the potatoes out of skillet and allow to drain on a metal rack over paper towels.
9.  Serve with your favorite dipping sauce!


Chef Notes:
*This recipe is Paleo-friendly.
*The Spiral Vegetable Slicer by Paderno World Cuisine is a fabulous kitchen tool!  It cuts vegetables and fruit into curly ribbon-like spirals.  Great for making grain free noodles, ribbons, or to decorate dishes for presentation.
*Visit our blog to read our review: Spiral Vegetable Slicer Review; Favorite New Kitchen Tool!
*Click here to purchase the Spiral Vegetable Slicer.
Return from Curly French Fries to more tasty Sides

Or go to Sprouted Root's fun and informative Blog for great products reviews and articles.

For more products we love go to our Product Page

_____________________________________________________________________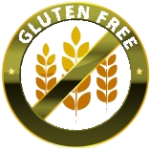 Gluten Free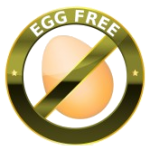 Egg Free     

 Lactose Free   

 Vegetarian          *Dairy Free