Serving  size  3

Prep   15  mins
Cook   15  mins
Total Time:   30 mins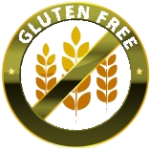 Gluten Free




B

eware!  This is dessert is crazy good!  Vanilla ice cream rolled in cinnamon sugar on a bed of cooked spiraled cinnamon apples, topped with a creamy caramel sauce and crunchy gluten free crumble.  Another great gluten free recipe to keep your family humming along."
INGREDIENTS 
1 carton of vanilla ice cream
1/2 cup sugar
1/4 cup cinnamon
3 granny smith apples, peeled
Crumble
Caramel Sauce
1/2 cup heavy whipping cream
1/4 cup brown sugar
DIRECTIONS
1.  Scoop out large balls of ice cream, about 2″ in diameter and place into a small bowl that is about the size of the ice cream.  Shape the balls smooth and place into the freezer to get nice and hard.
2.  Mix the sugar and cinnamon together in a small bowl.  Roll the ice cream balls in the cinnamon sugar to coat and place back into the refrigerator to harden. Save the left over cinnamon sugar for the spiraled apples.
3.   Make the crumble:  Preheat oven @350 deg. F.  Mix brown rice flour blend, cinnamon, and brown sugar in a bowl.  Then cut the butter into small pieces and with your fingers mix the butter into the flour mixture.  Sprinkle out about 1/4 " thick onto a cookie sheet (do not press) and bake for 10 mins. or until done. like a cookie.  Take the cookie sheet out of the oven and allow to cool.

4.  Make the caramel sauce:  Heat cream and brown sugar in a small pot on medium heat.  Stir constantly and bring to a boil.  Allow to boil for 1 or 2 minutes, until thickened.  Take off heat and allow to cool to warm, still a pourable consistency.
5.  Spiralize the apples with one of the most coolest kitchen tools by Paderno World Cuisine.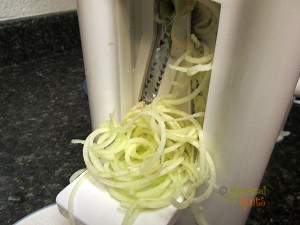 6.  Place the spiraled apples in a small pot with 1/2 cup of water and cook for 2-5 minutes, until soft.  Pour off any left over liquid and allow to cool completely.
6.  Coat the cooled spiraled apples in the left over cinnamon sugar.  And place on a plate.
7.  Place the sugared ice cream ball on top of the spiraled apples, pour the caramel sauce on top.  Break up the crumble into small pieces and sprinkle on top.  Serve immediately and enjoy!


Chef Notes:
*As a time saver, you can make everything a day or two ahead of time, then just barely warm the caramel sauce to pourable and then build the dessert right before serving.
*The Spiral Vegetable Slicer by Paderno World Cuisine is a fabulous kitchen tool!  It cuts vegetables and fruit into curly ribbon-like spirals.  Great for making grain free noodles, ribbons, or to decorate dishes for presentation.
*Visit our blog to read our review: Spiral Vegetable Slicer Review; Favorite New Kitchen Tool!
*Click here to purchase the Spiral Vegetable Slicer.
Return from Gluten Free Cinnamon Apple Crumble A La Mode to more tasty Gluten Free Desserts.
Or go to Sprouted Root's fun and informative Blog for great products reviews and articles.

_____________________________________________________________________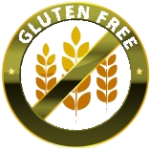 Gluten Free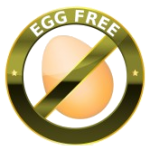 Egg Free     

 Lactose Free   

 Vegetarian          *Dairy Free