Serving size 6
Prep 1  hr
Cook 45 mins
Total Time 1 hr 45 mins

 Lactose Free



C

ook up some of this gluten free hearty chicken noodle soup.  Great to bring to a loved one that has a cold.  Chicken noodle soup is great for the soul."
INGREDIENTS
Carcass and juices from a roasted or crock pot chicken

1/2 teaspoon salt
1/4 teaspoon pepper

1 tablespoon dried parlsy
1 tablespoon dried celery
1 bay leaf
1/2 teaspoon dried thyme
1 carrot diced
6 cloves garlic minced

½ onion diced

6 ounces rice fettuccine noodles broken into  1 inch pieces
DIRECTIONS
1.  Add chicken carcass to a large stock pot and add enough water to cover it.  Bring to a boil, cover, reduce heat to simmer and cook for 1 hour.
2.  Take chicken out to cool on a plate.  Remove all bones as well.
3.  Add salt, pepper, parsley, celery, bay leaf, thyme, carrots, garlic and onion to the chicken broth in the stock pot.
3.  Pick meat off of bones and add to the broth.
4.  Bring to a boil, cover and reduce heat.  Simmer for ½ hour.
5.  Add noodles and cook until done, about 15 minutes.

Chef Notes:
Return from Gluten Free Chicken Noodle Soup to Gluten Free Soups and Stews
______________________________________________________

Gluten Free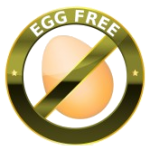 Egg Free  

 Lactose Free     *Dairy Free