makes 2 loaves
Prep   10  mins
Cook  45 mins

Total Time:   55 mins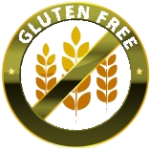 Gluten Free       





Y

our kids will be begging you to make this wonderful gluten free banana bread every time there are ripe bananas in the house.  Its a good thing this recipe makes 2 loaves because it won't last long.  To get extra sweet, banana-y flavor let the bananas sit until they are really really squishy, almost all the way black.  This lets the natural sugars start to break down and liquify for an intense banana flavor. Yummy!"
4 ripe bananas smashed
2 eggs
1 cup sugar
½ cup butter or coconut oil
1 teaspoon vanilla
2 cups brown rice flour mix * see recipe below
½ teaspoon salt
4 teaspoon baking powder
1 teaspoon baking soda
6 ounces chocolate chips *optional
1.  Preheat oven 350 deg.
2.  Butter 2 loaf pans.
3.  Mix bananas, eggs, sugar, and melted butter together in a bowl.  Add vanilla.
4.  In a different bowl, mix flour, salt, baking powder, and baking soda.
5.  Add to banana mixture, chocolate chips if using, and mix.  Add chocolate chips if desired.
6.  Pour half into each pan and bake for 45 minutes, or until a knife or toothpick comes out clean when inserted into the middle.  My family loves it served warm, sliced, and with butter on top.
* Flour Mix
2 ¾ cups brown rice flour
1 ¼ cups potato starch
¾ cup tapioca flour
Mix well. Hint: be sure to mix well before measuring for each batch.


Chef Notes:
Check if banana bread is done by poking a knife into the center of the loaf.  If it comes out clean, gluten free banana bread is ready!
Warning, this recipe will make your house smell so good!!!!

_____________________________________________________________________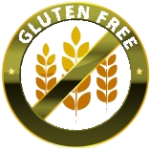 Gluten Free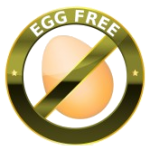 Egg Free     

 Lactose Free   

 Vegetarian          *Dairy Free