You Want Power?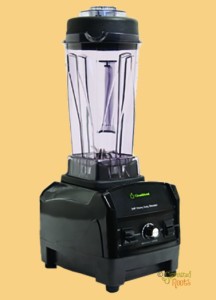 Oh Yah! 
Cleanblend Blender 
HAS POWER!

I was looking for a new blender but this time I wanted  one with more power.  I wanted creamy soups and milk shakes, thick dips, and to make healthy ice cream in a snap!  To get this kind of blender, I needed power and durability. At first I was dreading it because I was sure it was going to break my pocketbook.  To my surprise I was thrilled to find that there is an awesome blender out there with everything I needed at a fraction of the price over the competition!
With a hefty 3 horsepower motor, Cleanblend Blender is a star in my kitchen! With a large family, I appreciate the large 64 ounce BPA free container. Only one batch of soup to make for this busy mama!
We make smoothies on a daily basis at our house.  Our favorite is our Berry Tropical Smoothie.  But we have changed the name since the Cleanblend Blender has come to our house.  We changed it to our Berry Smooth Tropical Smoothie.  With other blenders we have had, I've had to strain the seeds out of the smoothies for my kids.  It makes for a tedious step that I was regretting with every smoothie I made.  But with the Cleanblend's power, it annihilates the seeds and we make the most smooth smoothies in town!  Can you imagine how the Cleanblend makes milk shakes?  Oh, it makes magnificently thick and creamy milk shakes!  Click here for our Skinny Chocolate Peanut Butter and Banana Milkshake.
| | |
| --- | --- |
| | |
So let's go one step further, ICE CREAM!!!  My kids and I have seen demonstrations of ice cream made with just bananas and ice and after the demonstration they turn the container upside down to show how thick the ice cream is.  Every time I see this of course my kids beg me to buy one.  Glancing at the price tag (over $500)  I say no not this time.  In my mind I am saying "yah that will be the day".  I can't tell you how thrilled my kids were when I brought home the Cleanblend Blender!  The first thing we made was the Healthy Banana Ice Cream we saw demonstrated so many times.  Did it blend? YES!  Was it thick? YES! We even turned the container upside down and it was so thick nothing came out, not even a drop!  Immediately the Cleanblend blender became our favorite "power tool" in our kitchen!

If you can only afford one "power tool" in your kitchen, you need to get the Cleanblend blender.   There is virtually nothing this blender cannot handle.  Because of it's pulverizing ability there are so many things you can make with this blender.  Amazingly creamy dips, dressings, baby food, margaritas, cakes, soups…
Ah yes!  Soups!  I am going there!
Usually when I make creamy soups I use my immersion blender mainly because my old blenders were never powerful enough to blend them so that they were thick and creamy.  Not anymore, I cook my coarsely cut up vegies in the soup and put them in the Cleanblend and viola!  Creamy soup!  One of our favorites soups is our Zippy Spinach Soup and it is always a hassle to clean the stringy left over spinach that wraps around the blade.  This never happens with the blender. Want to know something even better?……the Cleanblend is a snap to clean!
Need to make cashew butter? Done! Need to grind grains? Done! I even use it to grind my flaxseed! So happy with the the Cleanblend blender!  I can't wait to play around with more recipes!
Here are a few more recipes we tried with the Cleanblend Blender.  Stay tuned for more!
*Want to know more about Cleanblend? Go to their website www.cleanblend.com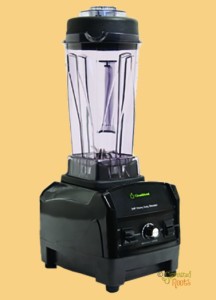 *Click here to buy your Cleanblend Blender today!
Return from Cleanblend Blender Review to Our Table (Blog) for more fun and interesting articles and reviews at

To view Products We Love click here

Join the Sprouted Roots Family; Subscribe to our Newsletter to get more Sprouted Roots Goodness delivered to your inbox!  Click Here to Subscribe