Serving  size 4-6 
Prep   5-10  mins
Cook   50  mins
Total Time:   1 hour



T

his butternut squash soup screams Autumn!  Comfort food at its best.  Simple food that warms the soul.  Always a great addition to a potluck or holiday gathering. Check out chef notes for tips to make it even easier.
"
INGREDIENTS
4 cups butternut squash, cut up (approximately one good sized butternut squash)
2 Tbsp butter
1 sweet onion
3-4 cups gluten free chicken broth
sea salt, to taste (optional)
2 Tsp garlic powder
1 pinch curry
sourcream and bacon, optional toppings
DIRECTIONS
Melt 2 Tablespoons butter in a stock pot.
Throw in 1 sweet onion sliced/diced (you will puree at the end so it doesn't matter too much).
Add 4 cups of cubed butternut squash (see chef notes.)
Brown for 5 minutes, stir to make sure it all gets a coating of butter.
Add just enough chicken stock to cover the squash and onions.
Bring to a boil.  Then let simmer for 40 minutes.
Next puree the squash and onions with a heavy duty blender such as the Vitamix or Margaritaville blender.  I don't puree all the chicken stock in with it but if you wanted a less dense soup you could.  If you are using a hand emulsifier that you simply stick into the stock pot, you may want to removed as much chicken stock before hand and add in what you want to achieve your desired thickness.
After its pureed, stir in the garlic, a little sea salt, and a pinch of curry.  (Don't be afraid of the curry even if you are not a fan.  Curry in small amounts will enhance the natural squash flavor.)

Chef Notes: 
To make life easier, consider buying prepackaged cut up butternut squash.  Costco carries it during the cold month, their package will make two batches of soup.
If you wish to make this soup vegetarian, omit the chicken stock and replace with vegetable stock.  It will be slightly less flavorful, but still great.
This butternut squash soup is Paleo friendly if you leave off the sour cream.
If you are using store bought chicken stock, be sure to check the label for gluten.  Many brands have gluten free options, just have to check!
For a special occasion dinner, try serving in small hallowed out pumpkins.
_____________________________________________________________________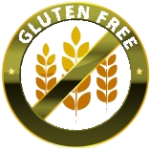 Gluten Free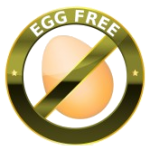 Egg Free     

 Lactose Free   

 Vegetarian          *Dairy Free