Planting the seeds of healthy traditions.

                                Laurel's Roots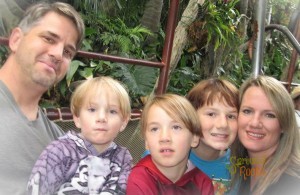 Our healthy living journey as a family began as we were healing my husband from an extreme case of eczema. He was on a vegetable only diet for a couple of years and then after that he was on a gluten free diet.  Our goal for cooking for our family was making the "normal" every day food that we ate healthy and taste good too which was a huge challenge.

We began playing in the kitchen. It was much easier for my husband and I to change to this new way of eating but it was a lot harder for our children to change. We started thinking of ways to help them adapt. One valuable thing we did was that we started having our children join us in the kitchen. We would look at a recipe and talk about what we could do differently. Our children would come up with ideas and we would try them.  Some of these recipes are designed by our children.
To help our children adjust to this new way of eating, we turn on the computer and we talk about the different ingredients within the meal, then we look up why they are good for our bodies and what they do for us. They become more mindful of what they are eating and how it makes them feel; stronger, smarter, and have more energy.
We have the great satisfaction of knowing we are giving

our children the tools to make good choices so that they

can live a long healthy lifestyle and they will pass on

their knowledge on to their children.
After my husband completely healed himself of eczema we had begun to love the way we were eating and the wonderful way it made us feel. We felt good, we had energy, our bodies looked good, the food tasted good. We had changed our way of life and didn't want to go back. But that meant still finding ways to take a normal recipe and make it gluten free and taste just as good.
With witnessing first hand that the right foods can heal, we began learning about other ways to keep our bodies healthy inside and out. We are on a quest to use natural body and cleansing products that are nice and easy to use as well. Some of them we make and some of them we purchase.
And so it is with this website, my friend Sarah

and I, along with our families, want to share

with you our knowledge and passion

from our journeys.
Laurel,

Married to my soul mate and best friend, homeschool mom to 3 wonderful boys, B.S. in Microbiology, Certificate of Nutrition from University of Miami, FL., Author of the forthcoming book, A Long Way From Home; An Eczema Journey.